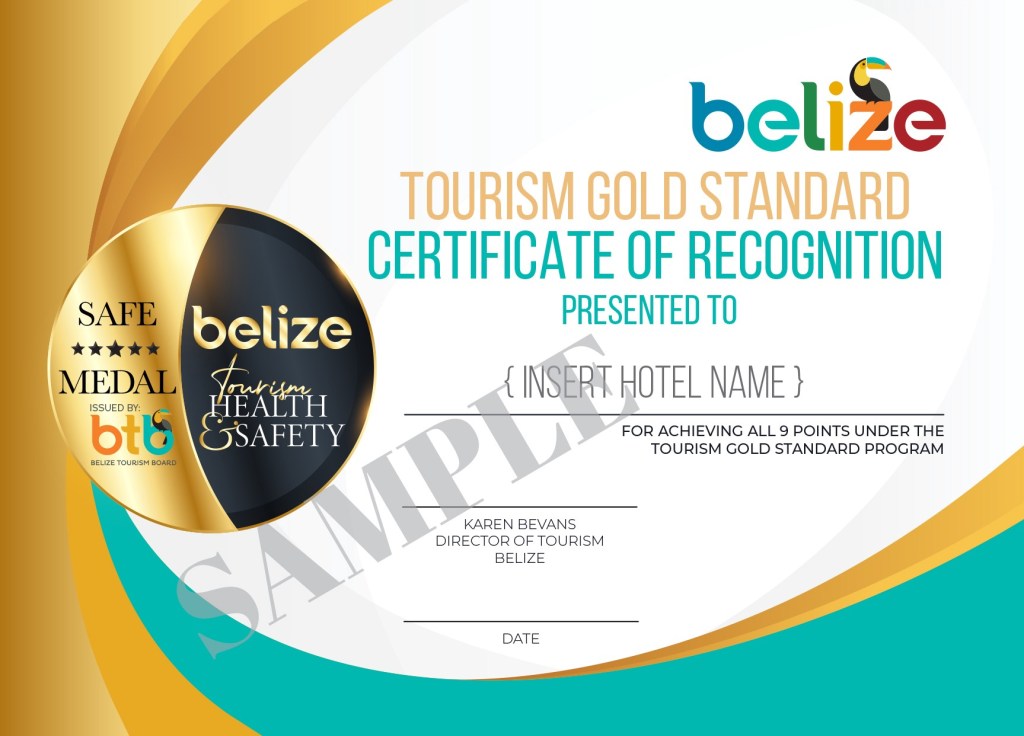 The Gold Standard Certification is a 9-point program developed by the Government of Belize and Belize Tourism Board. This certification was designed to help ensure the safety of guests, staff and residents of Belize. We here at Parham Plaza Hotel have agreed to follow new guidelines and
operating practices including new standard operating procedures, new sanitation and disinfectant practices, requiring masks in certain areas of the resort, monitoring guest, staff and vendor temperatures, installing signs throughout the resort to help remind both guests and staff of the new
requirements and even emergency procedures in the case of a Covid-19 situation. To help ensure all of this is done efficiently and effectively we have assigned a gold standard program manager. With the help of our valued guests and staff we can create a safe, relaxing, fun atmosphere where all that matters is cold drinks, good food and fun in the sun.
New Travel Requirements
You may or may not have noticed a new set of requirements to travel to Belize; these are all in place to help reinforce the importance of safe practices upon your arrival at the Philip S. W. Goldson International Airport.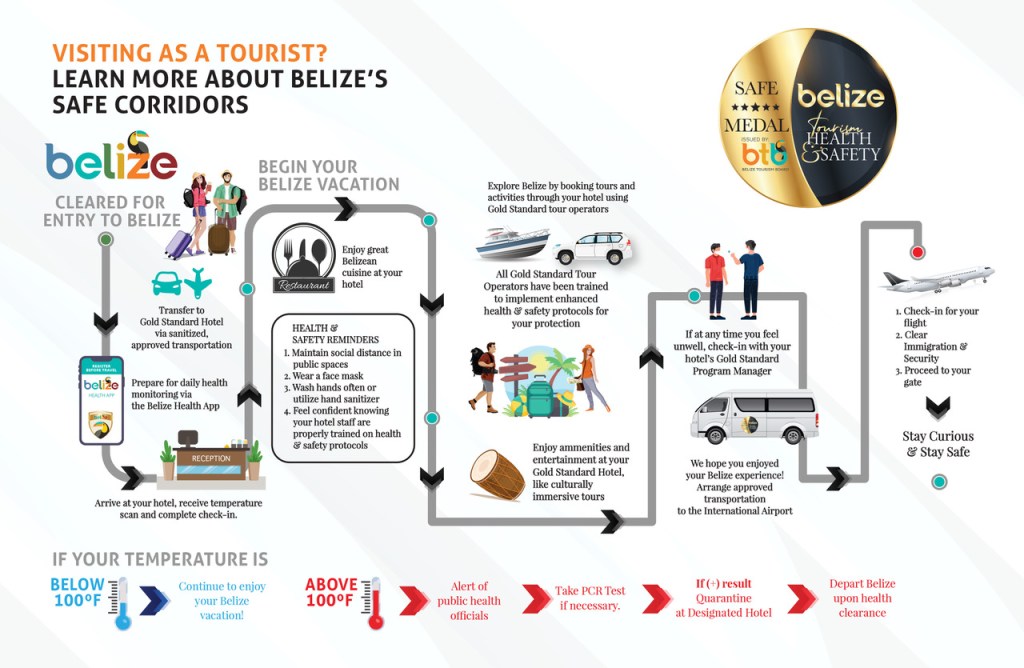 What to expect while visiting?
Even though you will see some new things around Parham Plaza Hotel and will need to follow some new guidelines, we want to reinforce the fact that our number one goal is to provide a relaxing and peaceful stay here in Belize while ensuring your health and safety. With Staff and Guests working together we will be able to achieve our main goal of health,fun and safety. We kindly ask our visitors to please follow a few simple guidelines.
Please wear your masks while moving around the resort and the island. You are not required to wear your mask while swimming at the pools or in the ocean, while eating or drinking, while relaxing at the beach and while exercising. A simple saying to help as a reminder is Stand Up Mask Up.
While at the pool you are able to interact with others just please practice social distancing. Even though you may feel comfortable others may not.
Please practice safe hygiene such as washing hands before entering stores, restaurants and other places with high traffic.
Please understand that our staff is only following the procedures set in place by the Government of Belize. We are required to take your temperatures every time you enter the resort, we are required to keep certain data logs including the time you leave and return.
We will never ask you to do something we are not expected to do ourselves.
What we expect of our Staff
While understanding that our beloved guests have a few extra steps to ensure their safety we also have additional expectations of our staff. We will be doing bi-weekly training courses for our staff. Reinforcing the safety procedures and new guidelines set in place while also addressing any concerns they might have. Some of the new expectations are
Staff must wear masks at all time
Staff will be required to take two daily temperature readings
We will log all movements of staff including the time they arrive at work and if they leave the resort for any reason.
If staff leave the resort they will be required to take a temperature reading and log where they went, the time they left and the time they returned.
Keeping cleaning logs, sanitation logs, disinfection logs and practicing proper hygiene such as washing their hands after touching anything considered a High Touch Point or something that many people come in contact with.
They will also be trained on identifying symptoms of Covid-19 and are asked not to come to work if not feeling well.
We have also adjusted our cleaning procedures to ensure that all rooms, areas of contact and amenities to guests are properly cleaned in between use.
Here at Parham Plaza Hotel we promise we will offer the utmost clarity when it comes to changes in the government's requirements. Upon booking we will have open communication with our guests and offer any assistance necessary. We will continue to pass along any information that can be used to help ensure your safety.
With all of this new information it may seem like it could get in the way of a relaxing stay, that is the last thing we want anyone to think. We will constantly be working behind the scenes to ensure you will not have a care in the world. We will be working with only Gold Standard Certified Tour operators and Gold Standard Certified transportation. We have selected the best golf cart rental companies on the island who are willing to practice our standards of safety. While you are relaxing at the pool, on the beach or on one of our amazing tours we promise we will be working to keep everyone safe.